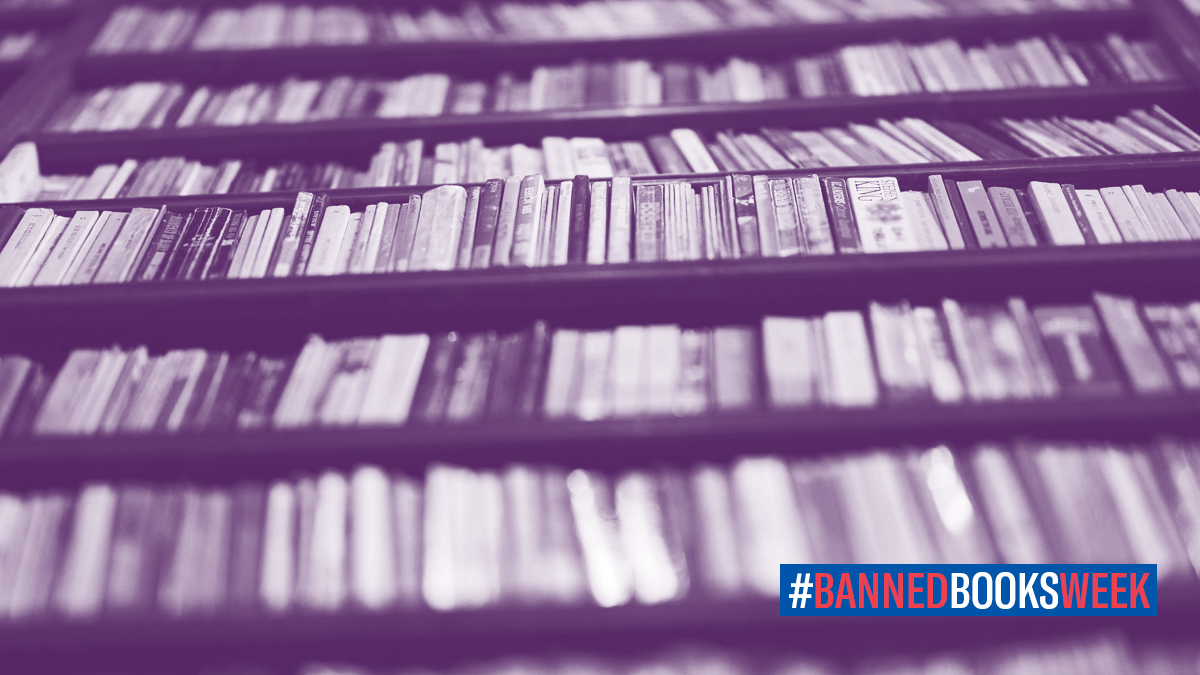 As we stated in our blog Banned Books Week... More Relevant than Ever? , we here at the ACLU love Banned Books Week—and rightfully so! As you may already know, the ACLU firmly stands against censorship of all types, and that most certainly includes the banning of books. However, we not only defend banned books, but we love them too! From classics by Mark Twain and Toni Morrison to the seemingly eternally controversial Harry Potter series, we've done our fair share of reading banned books, and to celebrate this week, we're sharing our favorite quotes from our banned books.
Toni Morrison, Beloved:
"He licked his lips. 'Well, if you want my opinion-'
'I don't,' She said. 'I have my own."
J.K. Rowling, Harry Potter and the Prisoner of Azkaban:
"Happiness can be found in the darkest of times, if one only remembers to turn on the light."
Sherman Alexie, The Absolutely True Diary of a Part-Time Indian
"I grabbed my book and opened it up.
I wanted to smell it.
Heck, I wanted to kiss it.
Yes, kiss it.
That's right, I am a book kisser.
Maybe that's kind of perverted or maybe it's just romantic and highly intelligent"
Marjane Satrapi, Persepolis: The Story of a Childhood
"I had learned that you should always shout louder than your aggressor."
Maurice Sendak, Where the Wild Things Are
"And Max, the king of all wild things, was lonely and wanted to be where someone loved him best of all."
Anne Frank, The Diary of a Young Girl
"It's really a wonder that I haven't dropped all my ideals, because they seem so absurd and impossible to carry out. Yet I keep them, because in spite of everything, I still believe that people are really good at heart."
Khaled Hossseini, The Kite Runner
"For you, a thousand times over."
Angie Thomas, The Hate U Give
"What's the point of having a voice if you're gonna be silent in those moments you shouldn't be?"
Lois Lowry, The Giver
"But why can't everyone have the memories? I think it would seem a little easier if the memories were shared. You and I wouldn't have to bear so much by ourselves, if everyone took a part."
J.R.R. Tolkien, The Lord of the Rings - The Two Towers
"But in the end it's only a passing thing, this shadow; even darkness must pass."
George Orwell, 1984
"Who controls the past controls the future. Who controls the present controls the past."
Ray Bradbury, Fahrenheit 451
"Our civilization is flinging itself to pieces. Stand back from the centrifuge."
Mark Twain, The Adventures of Huckleberry Finn
"I do not wish any reward but to know I have done the right thing."
Sylvia Path, The Bell Jar
"I felt my lungs inflate with the onrush of scenery—air, mountains, trees, people. I thought, 'This is what it is to be happy."
Malcolm X, The Autobiography of Malcolm X
"I've had enough of someone else's propaganda… I'm for truth, no matter who tells it. I'm for justice, no matter who it is for or against. I'm a human being first and foremost, and as such I'm for whoever and whatever benefits humanity as a whole."
Harper Lee, To Kill a Mockingbird
"Simply because we are licked a hundred years before we started is no reason for us not to try to win."
Jill Twiss, A Day in the Life of Marlon Bundo
"Stink bugs are temporary. Love is forever."
Anthony Burgess, A Clockwork Orange
"Imagination, of course, can open any door—turn the key and let terror walk right in."
Dr. Seuss, The Lorax
"The Lorax: Which way does a tree fall?
The Once-ler: Uh, down?"
The Lorax: A tree falls the way it leans. Be careful which way you lean."

Suzanne Collins, The Hunger Games
"Better never means better for everyone… It always means worse, for some."
Peter Parnell, And Tango Makes Three
"Now Roy and Silo were fathers. 'We'll call her Tango,' Mr. Gramzay decided, 'because it takes two to make a Tango."