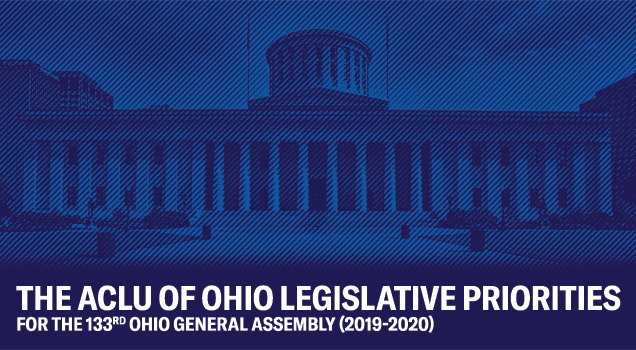 Priority 1:

Smart Justice

Ohio is ripe for criminal justice reform. Our prison population nearly quadrupled between 1980 and 2016, giving Ohio the fifth largest prison population in the country in 2016. Each year legislators talk a big game on sentencing reform, yet introduce and pass bills that send more people to our overcrowded prisons and jails and for longer periods of time. During the 2017 – 2018 legislative session 12% of all bills introduced across chambers included a sentencing enhancement.

Compounding these numbers, two out of three people in Ohio jails are held pretrial. The ACLU of Ohio is determined to end Ohio's dependence on cash bail, which has created a two-tier system of justice in which wealthier people accused of a crime go free, while poorer people accused of the same crime stay behind bars. Legislation is one of the ways that can fix this criminalization of poverty and bi-partisan momentum exists to make it happen!

We're advocating for comprehensive criminal justice reform measures and testifying against bills that will worsen our mass incarceration problem. Check out our Bail Reform resource center.
Priority 2:

Ohio Fairness Act

Numerous states have implemented comprehensive non-discrimination laws to protect LGBTQ individuals from discrimination in housing, employment and public accommodations. Unfortunately in Ohio, non-discrimination bills have been introduced and stalled every year for more than a decade. LGBTQ Ohioans can still get married on Sunday, lose their housing on Monday, be denied employment on Tuesday, and be denied access to public space on Wednesday. It's time for this to end. We're working with our partners Equality Ohio, HRC and TransOhio to advocate for Senate Bill 11 which would add sexual orientation and gender identity into Ohio's non-discrimination laws.
Priority 3:

Automatic Voter Registration

We are committed to making voting more accessible, secure, and fair for all Ohioans. We know making it easier to register to vote means more people will vote. Automatic voter registration has proven successful in expanding the voter rolls to make sure that every eligible voter has an opportunity to exercise their right to cast a ballot. Registering voters, or updating their voter registration information, when they interact with a state agency is a common sense reform that has already been embraced by 15 states and the District of Columbia. We're working to add Ohio to the growing list of states that are embracing automatic voter registration
---
Testimony & Advocacy Letters:
Click the bill number to read the bill's language, check its status, and download additional testimony documents on the Ohio General Assemblies' website.
---
Click image to learn more about Ohio's Statehouse-to-Prison Pipeline.
---
For a look at our historic legislative involvement, please visit the
legislative archive page
.
 
Priority 1
 
Priority 2
 
Priority 3