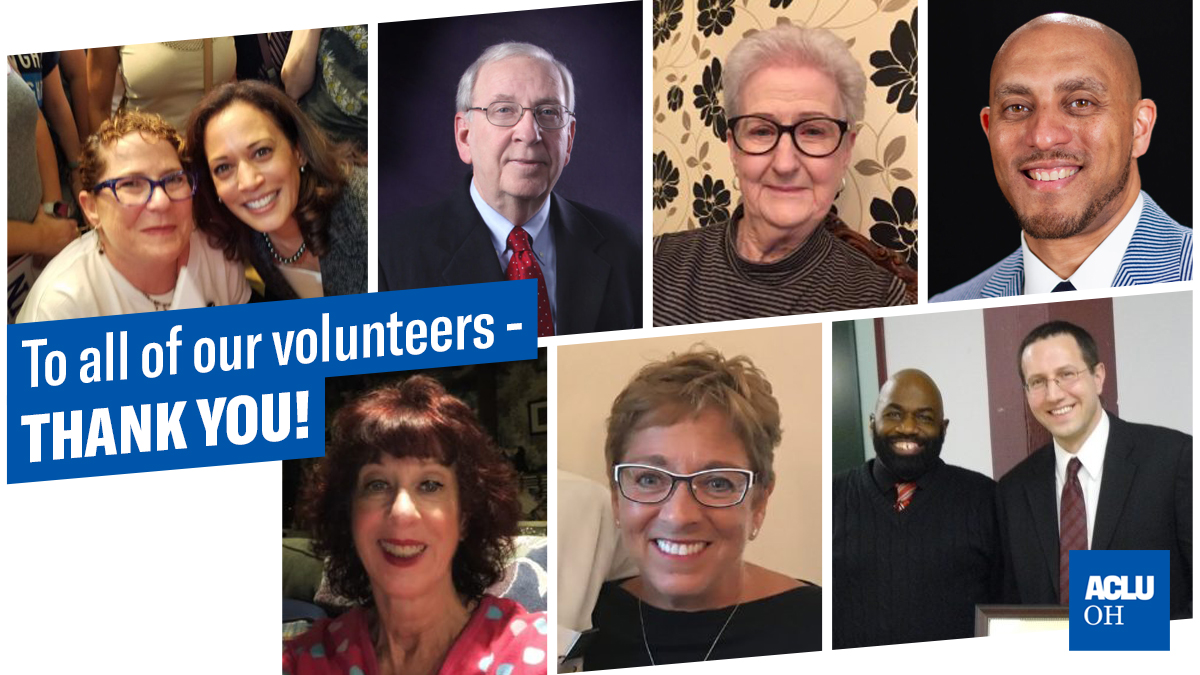 Saturday, December 5th, 2020 marks International Volunteer Day (IVD). IVD is an international observance that was mandated by the UN General Assembly in 1985 and is typically a day designated to promote volunteerism, encourage governments to support volunteer efforts and recognize volunteer contributions to the achievement of the Sustainable Development Goals (SDGs) at local, national, and international levels. And if there ever were a year to celebrate volunteers – especially in the realm of civil liberties – this year would definitely be it! In the US in particular, the 2020 General Election resulted in countless volunteers who utilized their energy to register and inform voters, work poll locations on November 3rd, and serve as Election Protection volunteers. The ACLU of Ohio's Organizing, Legal, and Policy departments also took part in these efforts and mobilized over 100 volunteers to protect voting rights. These individuals worked tirelessly around the clock, engaging over 130,000 Ohioans to educate them on how to register to vote, the different ways one could cast their ballot, poll times, and offering the gentle reminder that their vote counted. However, this is nothing new. The ACLU and the ACLU of Ohio have a rich history of volunteers doing their part in protecting civil liberties across the nation. For the ACLU of Ohio, we have been lucky throughout our years to have volunteers contributing their time in various avenues by being active members of our Action Team and ACLU of Ohio Board, speaking on behalf of our organization for our Speakers Bureau, and volunteering to work in our offices in Cleveland and Columbus for our Development and Legal departments. And for International Volunteer Day, we wanted to highlight some of them for their amazing work.   Joseph Mead – Associate General Counsel, ACLU of Ohio Board & Volunteer Attorney "I am grateful to have been able to work with the outstanding ACLU legal team and our brave clients in the fight for justice. It's been a professional highlight to be part of the team that has secured so many big wins for the Constitution in Ohio." **We'd also like to take this opportunity to wish Joe a bittersweet farewell as he embarks on a new journey outside of Ohio. Joe's work, especially in the legal realm, has been invaluable, and we wouldn't have achieved the victories that we have over the last several years without him. Good luck to you, Joe!**   Dr. Hasan Kwame Jeffries – ACLU of Ohio Board President, March 2018 – March 2021 "I serve on the Board of the ACLU of Ohio because I believe in the ACLU of Ohio. I believe in the ACLU's commitment to civil liberties. I believe in the ACLU's promotion of social justice. I believe in the ACLU's efforts to protect reproductive rights. I believe in the ACLU's dedication to voting rights. I believe in the ACLU's fight to extend equal rights to members of the LGBTQIA community. The ACLU stands for the people, and I'm proud to stand with the ACLU."   Ann Levin – Development Volunteer
"
I became involved with ACLU because I feel that everyone's civil liberties should be protected, and I wanted to help in that effort.  I love doing what I can and the people at ACLU are wonderful. I'm grateful to be able to participate as a volunteer!"  
Mindy Hedges – Organizing Volunteer
"
I have volunteered, for several years, to register voters in Ohio. It has been a wonderful experience, except for the fact that almost every person who had reentered their communities after some time in the Ohio prison system, would say they cannot vote. I did considerable research on who to call within the prison system that could help me get this important Voter Registration information and an Absentee Ballot form into the hands of every person re-entering their communities. I finally reached a wonderful resource in Roni Burkes-Trowsdell, Deputy Director, Ohio Department of Rehabilitation and Correction, Office of Reentry. She was totally on board after I explained what we wanted to do, after making sure this was not already being done. Having the ACLU behind this effort was a big help."  
Patti Zilka – Development Volunteer
David Madden – Speakers Bureau Speaker
"
I volunteer for the ACLU because I know it will speak up for the rights of all Americans and seek justice consistent with the rule of law and democratic, and constitutional values and rights."  
Linda Weiss – Development Volunteer
"When I was teaching, I was confronted with a major problem involving church/state separation. The ACLU was the only organization that would take action on it. Within twenty-four hours, it was solved. I have been an ACLU member ever since and have volunteered for them since I retired. I feel the ACLU is one of the most valuable and courageous organizations in this country. It is our only buffer against those who attempt to deny Americans their civil rights and need to be supported in any way possible. I love my work with them."   To all of our volunteers – in all of their capacities here at the ACLU of Ohio –
THANK YOU!
The ACLU of Ohio couldn't do the work that we do without our volunteers serving as the foundation to our organization. For more volunteer highlights, make sure to hit up
our Instagram
every Thursday for our Thankful Thursday series in which we shine the spotlight on Action Team volunteers and all the incredible work they've been doing in Cleveland, Columbus, Cincinnati, and beyond!